Tax Office & Associates™ is leading the way by putting the personal tax professional back into the retail tax services industry. Our innovative, proprietary 1-2-3 EZ Tax Approach™ takes the stress and anxiety out of taxes. Our fees and services are transparent and affordable. Pick your service and pick your price™. We make tax planning, tax preparation, and tax resolution EZ to understand and EZ to afford.
Tax Office & Associates™ is a business founded on Christian principles. These principles are the bedrock of our core company values. We are a God-centered people-services company. Our core value is to improve the lives of the people we serve.
We believe every taxpayer deserves the right to have their very own tax professional. Our team of independent tax professionals provides clients with a personalized point of contact and develops personal relationships to build value, while providing an EZ and standardized approach to taxation. All of our products and services are presented in an easy to understand 1-2-3 EZ format. Our services are always transparent and we never hide fees. But it is our personal touch and promise to always think of others first, to go the extra mile, and to always be excellent that makes the real difference.
At Tax Office & Associates™, we believe in the human touch . . . we believe in the professional . . . we believe you deserve better.
We Make Taxes EZ . . . Because It's Your Money™.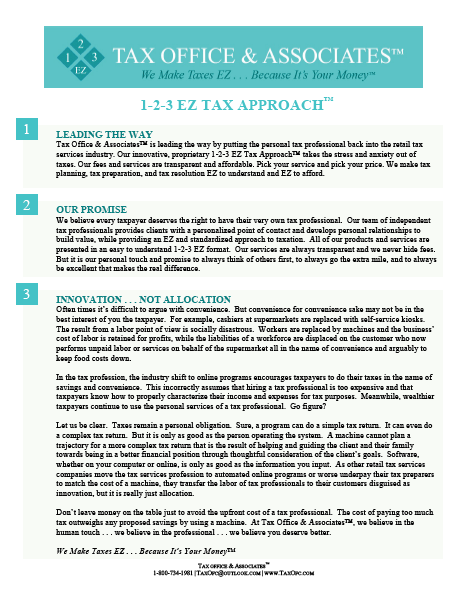 Download Tax Office & Associates™ 1-2-3 EZ Tax Approach™