Tax Office & Associates™ provides Notary Public services through its wholly owned subsidiary, Legacy Notary Services™.
Our office provides mobile notary services for all your notary needs in both English and Spanish. Whether you are an individual, attorney, title company, loan originator, or real estate professional, we specialize in traveling to our clients' homes, places of business, hospitals or any agreed upon location.
We provide the convenience of coming directly to you and eliminate the need for you to juggle your commitments and travel to an unfamiliar location. This service is intended for anyone who cannot "go to" see a notary and would like someone to come to them.
NOTARIAL ACTS
Acknowledgment = $15
Jurat = $15
Certifying Copies:

Power of Attorney = $15
Public Request for Line Item = $0.30 per line item
We can Notarize the following documents and more:
Legal documents, i.e. wills, trusts, affidavits
Permission to travel forms for minors
Also available in Espanol for those traveling from Mexico back to USA
Affidavit of citizenship
Affidavit of support
Power of Attorney
Medical release forms
School permission slips
Car title transfers
Passport permission forms
Fees: All notarization fees are based on the California Government Code § 8211. The State of California prescribes standard fees for Notary Services. The following prices for Acknowledgments, Jurats, Oaths or Affirmations and Copy Certifications adhere to these regulations. *Travel Fees are not regulated by the California Code and are disclosed and negotiated in advance of any mobile notary services provided.
We are a locally owned Petaluma business serving the North Bay counties -- Sonoma, Marin and Napa.
Bonded
Notary Background certification
Sonoma County | Marin County | Napa County
Schedule Appointment: To make an appointment or to obtain a free quote, call 707-285-7105 or email our office at LegacyNSA@outlook.com
Active Member of: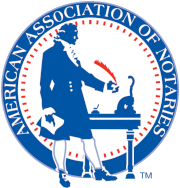 Disclaimer: Notary Public is not an attorney and cannot give legal advice.